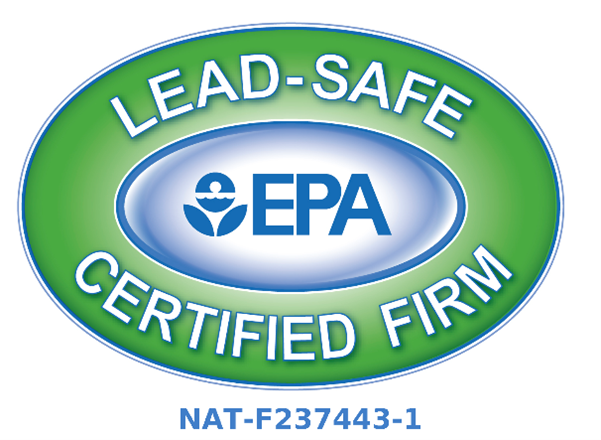 Lead Paint Testing Services
Clarity Home Inspection is proud to be an EPA Lead-Safe Certified Firm (NAT-F237443-1) and can perform all of your lead dust sampling, lead paint chip sampling and Lead-Safe Certifications.
Lead is a naturally occurring element which can be toxic to humans and animals and can cause multiple health effects. Prior to 1978, numerous brands and types of paint had used lead additives in their formulas to accelerate drying, increase durability, maintain a fresh appearance, and resist moisture that causes corrosion.
Lead paint is hazardous and especially harmful to children and pregnant women, leading to numerous health and developmental issues.
Most lead-paint poisoning results from exposure to lead paint dust. Even if you don't see any peeling paint, lead paint dust might still be present. Old doors and windows have painted parts that rub together and create dust, or there might be small amounts still present from a previous remodeling project.
Lead paint was banned in 1977 so there is a strong likelihood that homes built prior to 1978 could contain lead paint. There are more than 1.1 million homes in NJ built prior to 1978 many of which are concentrated in poorer, minority, urban communities.
The New Lead Paint Law P.L.2021, c.182.
On July 22, 2021 Governor Murphy signed Senate Bill S.1147 now Public Law P.L.2021, c.182. This new law around lead-based paint hazards and residential rentals of properties built before 1978 comes into effect July 22, 2022.
This bill essentially requires lead dust sampling be performed on residential rental properties built before 1978 upon each tenant turnover or within two years of the bill's effective date if no tenant turnover. A property owner must receive a Lead-Safe Certification on the property.
Municipalities will be requiring compliance with the new law. If the municipality or permanent local agency determines that a property owner has failed to comply with the new provisions with respect to a rental dwelling unit owned by the property owner, the property owner shall first be given 30 days to cure any violation by conducting the required inspection or initiate any required remediation efforts.
If the property owner has not cured the violation after 30 days, the property owner shall be subject to a penalty not to exceed $1,000 per week until the required inspection has been conducted or remediation efforts have been initiated.